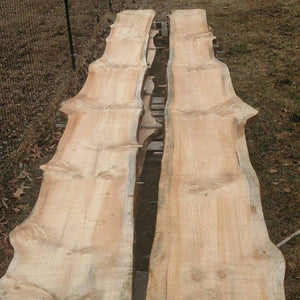 Lodge Pole Slabs
Lodge Pole grows in the Rocky Mountains of Northern New Mexico and Alaska, the Pacific Coast, and in the Black Hills. The poles of the tree were utilized by Native Americans for structural supports for lodges and teepees.
This type of tree isn't very huge. They might reach at least eighty feet in height in the Rockies. However, seldom go beyond fourteen inches in diameter. Sometimes, ponderosa pine lumber and lodgepole pine lumber are categorized together.
They are the same in properties and processing. Both are moderately robust softwoods, which make them suitable for construction purposes.
A unique attribute of this wood is that the tangential surface has a plethora of dimples. Those appear particularly when the lightning is at a low angle.
This wood has been utilized for cabinets and furniture, log cabins, mine timber, and railroad ties, among other local uses. Knotty pine paneling is an essential use, as well as millwork and cabinetry. Local purposes are essential, too.
At Go Living Edge, we are offering lodge pole slabs that have been pre-cut to different sought-after dimensions and sizes. We bring a stock of a broad spectrum of sizes and shapes since we source our inventory directory. The best part here is that our slabs are locally and ethically sourced, and are either repurposed or recycled.
Hence, you can rest assured we have the custom piece you are seeking!
Check out below our approximate prices for the following sizes:
6 ft. length x 13 in. wide x 2 in thick: $180
8 ft. length x 13 in. wide x 2 in thick: $220
10 ft. length x 13 in. wide x 2 in thick: $240
Please contact us today. We love helping our customers find exactly what they are looking for. If we do not have it in stock, we may be able to find it using our network!